Do you dream of a military career? ASVAB will be your ticket. First, it is conducted to determine the specialty for which you are most suitable. And secondly, the test will check whether you have the necessary intellectual skills to perform military service in a particular unit. 
Let us learn more about the requirements for results in different specialties.
ASVAB Score Requirements
The AFQT is a component of this test and is aimed at measuring the level of intellectual development. The results of this test are highly correlated with the classic IQ tests. 
As you can see, the test involves the mathematical, linguistic, logical, technical, mechanical field of knowledge. To prepare properly, you can improve problem fields with the help of private classes. Enter UpskillsTutor and find a variety of tutors with acceptable prices and characteristics. 
AFQT scores are classified into the following categories:
Category I: 93-99 points 

Category II: 65-92 points

Category III A: 50-64 points

Category III B: 31-49 points

Category IV A: 21-30 points

Category IV B: 16-20 points

Category IV C: 10-15 points

Category V: 0-9 points 
The next image presents the components of the subtests of this exam, with a brief description and scores.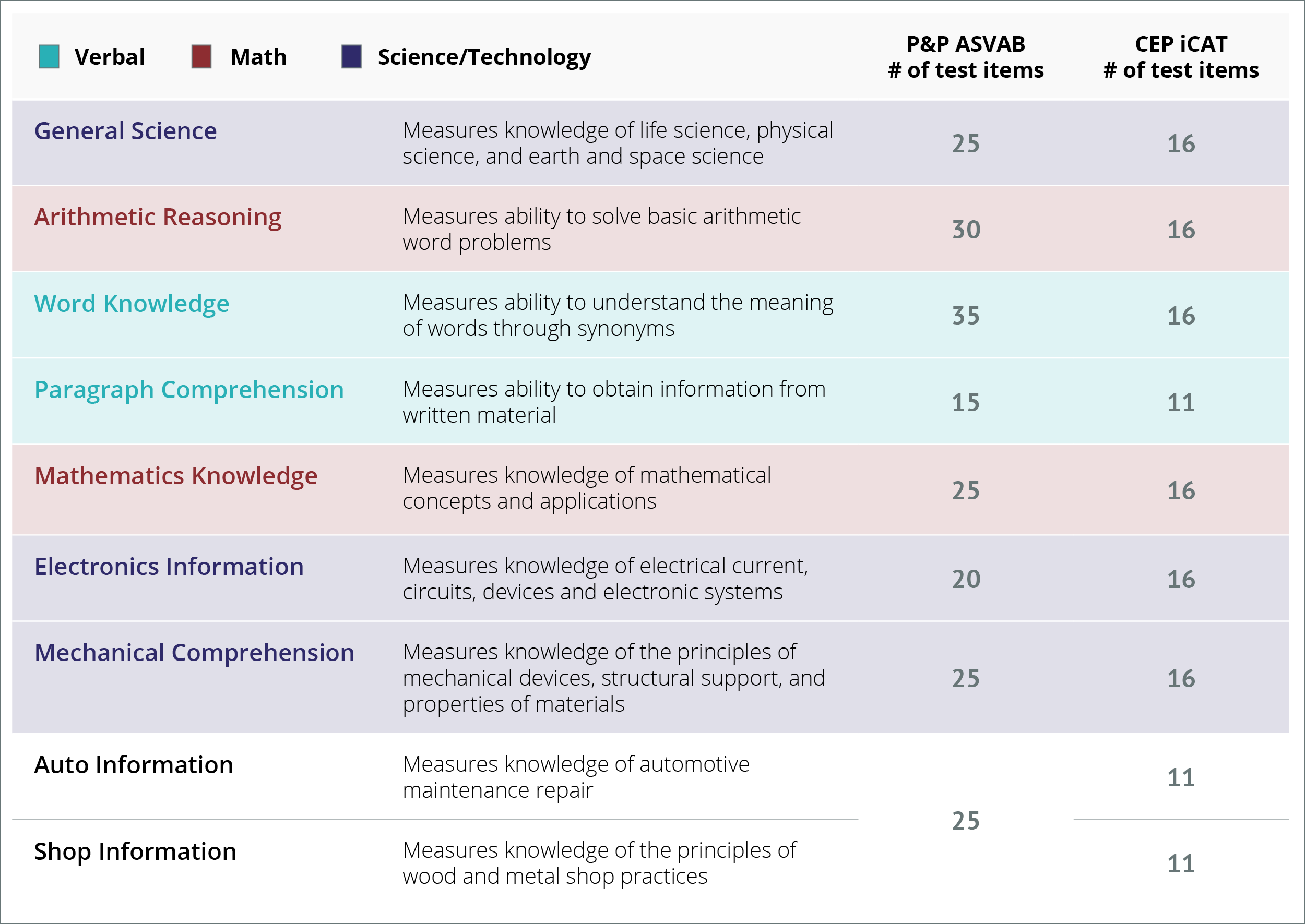 In 2018, the alternative to the test we mentioned became the PICAT army test, which covers 10 sections from different fields of knowledge. There are a total of 145 questions in the test, and it is held without taking into account time restrictions. After the first successful pass, you will receive a verification test to confirm your points.
What is an ASVAB Score?
Remember, this test is not just for military purposes. It analyzes your career opportunities in general. That is why, the examination results consist of three types of assessment:
overall career assessment;

overall results of evaluation of ASVAB sections;

AFQT scores that directly assess your suitability for a military career.
The table below shows the minimum requirements for points.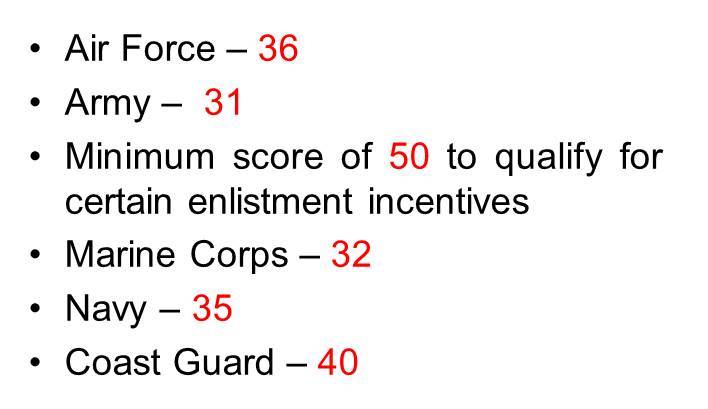 If you do not have a high school diploma but have already passed the test, the requirements for points are increased. So, what is the highest ASVAB score? The score is calculated not as the number of correct answers, but as a comparative result of the number of correct answers in relation to other test participants. Overall, this result ranges from 1 to 99.
Here are the points required for different groups of specialties: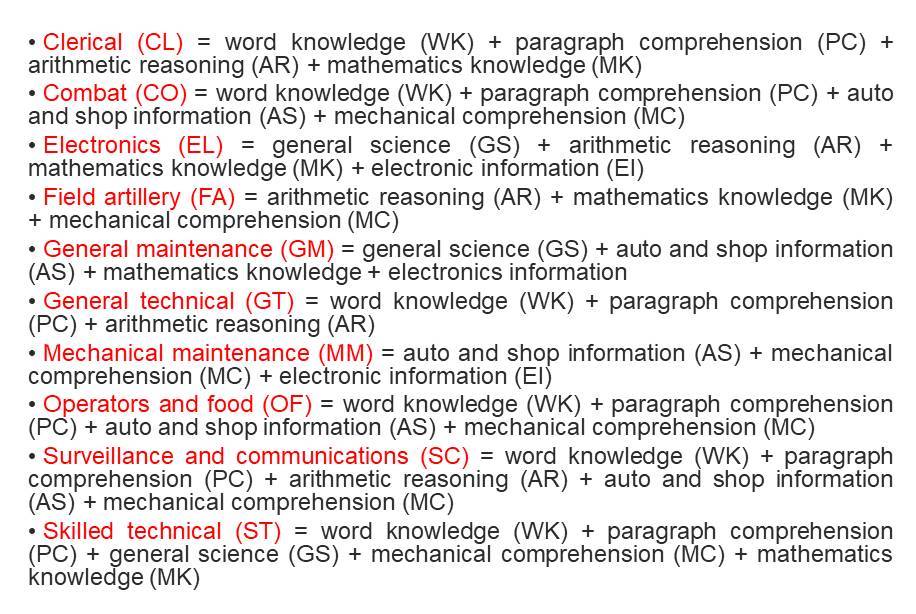 By the way, the result of AFQT is calculated as follows: AR+MK+PC+WK.
Army: ASVAB Scores and Jobs
Today, there are more than 150 military specialties. You can learn more about them at Operation Military Kids or asvabprogram.com. In general, a good ASVAB score for the army must be at least 60. In the meantime, look at a more condensed list.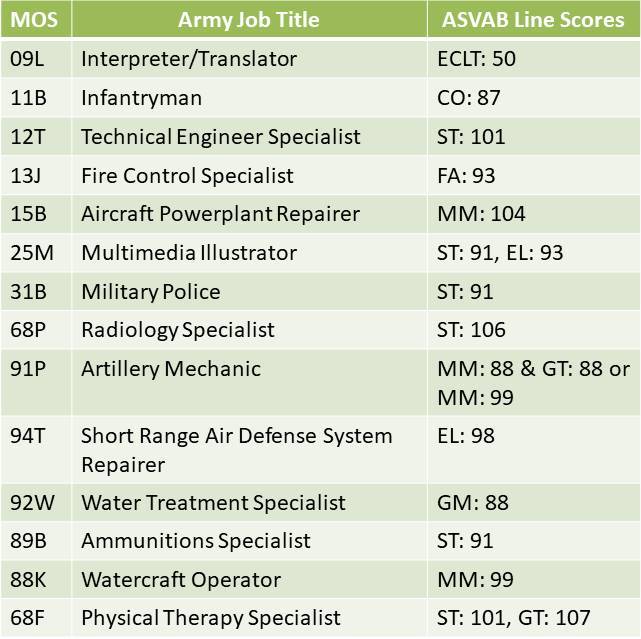 If you are seriously thinking about passing this exam, then you should also think about methods of preparation. Identify the most difficult sections for you and decide to study with a tutor. Choosing a private teacher is easy if you have defined criteria for yourself and use the UpskillsTutor platform.