At school or college, essays are the most common type of homework. Secondly, this task is available in SAT, ACT, GRE and other entrance exams. After all, any specialist with higher education must be able to logically structure their thoughts and consistently present them in writing. Sometimes this is also one of the test tasks for candidates for certain vacancies.
Read on and you will find out why drawing up an essay plan will not be superfluous.
What Is an Outline of an Essay?
An essay is a prosaic expression of a small volume and free composition that interprets individual impressions and considerations on a particular topic or question and exactly does not claim a comprehensive answer. However, if we mean an examination essay that is necessary for admission to an educational institution, then you should practice well in writing it. Since your thoughts should be structured, logically connected, and correlate with the main topic of a statement.
So an outline of an essay is sentences or short phrases to each paragraph of a future text, arranged in a compositional sequence. This is a great method to help you structure your thoughts and arguments before writing an essay. In any case, the structure of an essay outline should contain an introduction, a body, and conclusions. A plan is a foundation of future work, so it should be approached in a meaningful way. Here is what teachers of linguistics advise:
Consider whether you have understood the essay topic correctly and deeply.

Work through the necessary literature to better delve into the topic and express yourself expertly.

Lay out the overall theme into the sub-themes it covers.

Decide on the main thesis that will confirm or refute the positions expressed in the essay topic.

Think about the arguments, how many

of them should be, and in what order they should be arranged.

Consider compelling evidence for each argument.

Correlate the number of paragraphs and the estimated total volume of the work to the requirements made (if any).
Common types of essays: 
issue;

argumentative;

narrative;

descriptive;

expository.
How to Write an Outline for a Narrative Essay?
As usual, this is a story about someone's personal experience with a certain chronological sequence. This essay is not academic. But along with a descriptive type, it is very frequent. 
In general, you can improve skills in analytical or creative writing in courses or with a tutor. For example, on UpskillsTutor you will find a lot of useful information and will be able to select a qualified teacher for private classes. 
Back to our plan:
In the

introduction

, be sure to provide general background information on the topic. Summarize the pros and cons of a particular point of view. Then state your thesis, which determines specifically your opinion on this issue.

In the

main part

, highlight 2-3 arguments to reinforce and disclose your thesis. Each argument must be supported by facts from real life, statistics, history, scientific research, expert opinions and the like. For example, you talk about your experience of working in a new editorial program. As evidence-based examples, include a comparison of this program with other similar programs. 
You can combine examples with arguments in a single paragraph or select them in a separate paragraph after each paragraph with an argument. In your plan, you represent these points in the form of several short numbered sentences or phrases. They can be subdivided into sub-points when more details are required.
In

conclusion

, summarize the key points. You can once again present your thesis in a clearer and more valid formulation. You can also make a call to action and give recommendations if necessary. In general, this part, like the introductory part, does not have to consist of a single paragraph. A maximum of 3 paragraphs is allowed, but this depends on the style and volume requirements of an essay.
These instructions become the most obvious in a scheme. We introduce the alphanumeric outline example for a large text.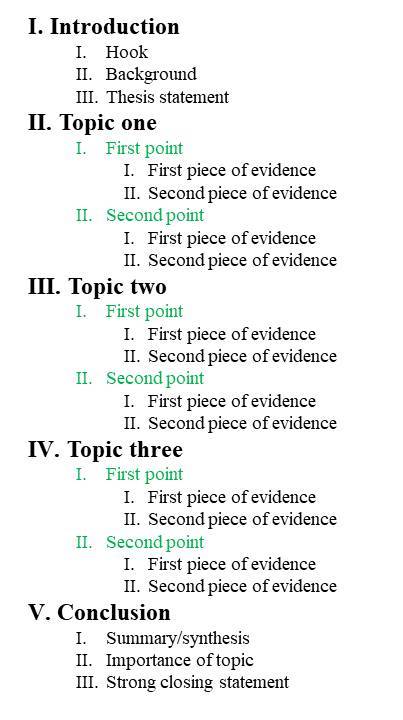 How to Write a Formal Essay?
A formal essay is academic writing based on facts, statistics, reports, and the like. It can be analytical, argumentative, problematic, and expository. Therefore, a plan for this type of academic work is usually very clear and branched, with many sub-points. The style of writing includes clichés, standard phrases, and complex sentences.
It is recommended to write an outline for such an essay in one style, that is, it is better to use complete sentences than short phrases (in any case, not both at the same time). Below is an example of a formal outline for an essay. This should be an argumentative essay on the topic «Gadgets turned people into zombies: how dependent are we on computers and smartphones?»
It is better to write several versions of essays of different types. And you can effectively analyze your mistakes only with the help of a tutor. After all, we are talking about skills that cannot be checked automatically.