French grammar is quite complex. Verbs in it may mean an active physical process or action, a passive physical process or state, a change of action or state, and a mental process. And there are also many verbs that make up a group of so-called irregular forms. In total, there are about 20 tenses in this language.
We will consider the laws of formation of Indicatif présent and the grammatical features of a French verb.
Tense Construction and Change of a Verb: General Rules and Characteristics
Verbs are divided into three groups, which differently create the forms of tenses. 
Words of the first group have the ending of the initial form -er. er verbs in present tense are, for example, parler, chanter, partager, manger, etc.
The second group has the ending -ir. These words are, for instance, finir, obéir, rougir, grandir, etc.
The third group of verbs includes all those that did not get into the first and second groups, including the modal forms vouloir (want), pouvoir (can), devoir (must), and the forms of individual conjugations. These verbs are not conjugated by a single pattern, and therefore they are called "irregular". Each of the forms of this group has its own endings, which you will only have to learn by heart or remember.
In order to put French verbs of the first or second group in a necessary form, you need to replace an ending of the initial form with the corresponding ending of another form. 
Such French forms also change in ways that show how an action relates to reality, how it is real (L'indicatif), how it is expressed (Le subjonctif), or how it depends on some condition (Le conditionnel), or someone's desire (L'impératif). Every mood has its own tenses – simple and complex. Simple tenses are formed by themselves, without auxiliary verbs. And complex tenses are formed with the help of auxiliary verbs: avoir (have) or etre (be), venir (come) or aller (go).
By the way, in order to purposefully study the language without spending time on many unnecessary things, choose courses or an individual teacher. The first ones are useful for practicing conversational skills, the second way is suitable for learning language from scratch, mastering grammar, preparing for exams and many other goals. And the most convenient place for searching for a private tutor is the UpskillsTutor site, where you can quickly find a specialist by your own set of criteria.
Present Tense of er Verbs
Personal forms of the first group are conjugated by a general rule: ending -er is discarded from the indeterminate verb form and the corresponding endings for specific persons are added. Sample of parle conjugation.
Here are some nuances of adding endings:
If the undefined form in the penultimate syllable has e muet, in all singular persons and the 3rd person of plural indicatif présent such e is changed to è (open [ɛ]) before the last syllable with e mute. Examples of words in which such a change occurs: mener, promener, semer, achever, lever, peser, etc. 
If the ending in the initial form is preceded by letter g, in the 1st person of plural, the letter e is added instead of [g] before the ending -ons to save the sound (manger, changer, interroger, loger, nager, protéger, etc.).
For verb forms in -oyer, -uyer in all singular persons and the 3rd person of plural, y changes into i before e mute (envoyer, nettoyer, tutoyer; appuyer, ennuyer, essuyer, etc.).
If the ending of infinitive is preceded by c, in the 1st person of plural, the diacritical sign cédille is added to c to save the sound [s] instead of [k] before the ending -ons (annoncer, lancer, forcer, placer, renoncer, etc.).
Consider these conjugation examples: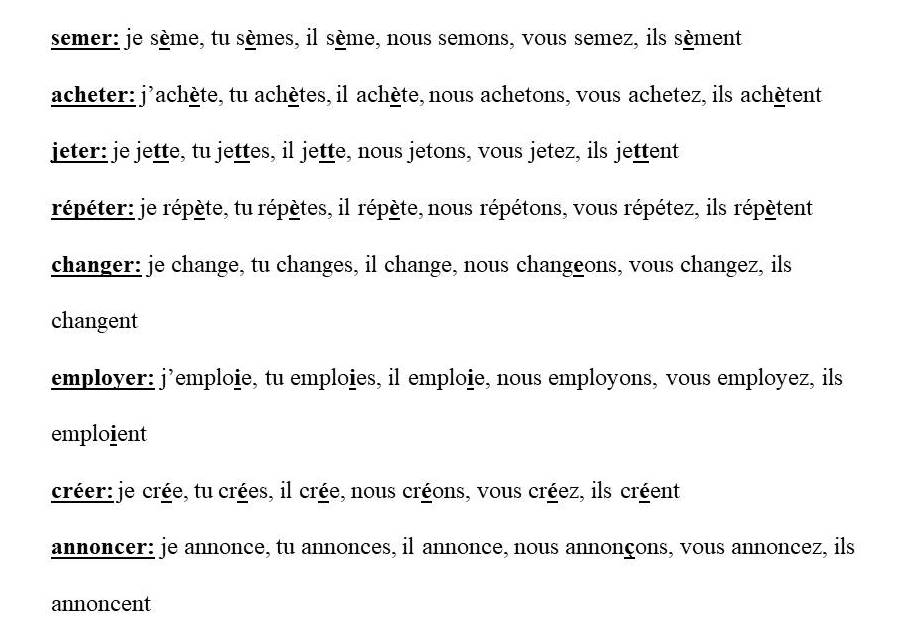 How to Conjugate ir Verbs in French?
The forms of the second group are conjugated according to a general rule: the ending -ir is rejected from an undefined form (infinitive), and the corresponding endings for specific persons are added. In the plural, the suffix -iss is added. Also, forms on -cevoir are mostly conjugated according to the typical scheme.

Here are examples of ir verb conjugation in French: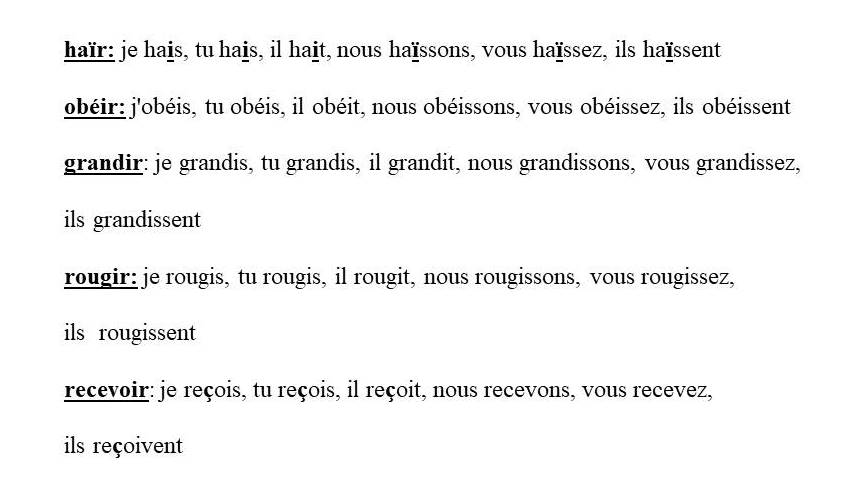 Irregular ir Verbs in French
This category includes forms ending in -ir (without -iss suffix in plural), -oir, -re, as well as the form aller.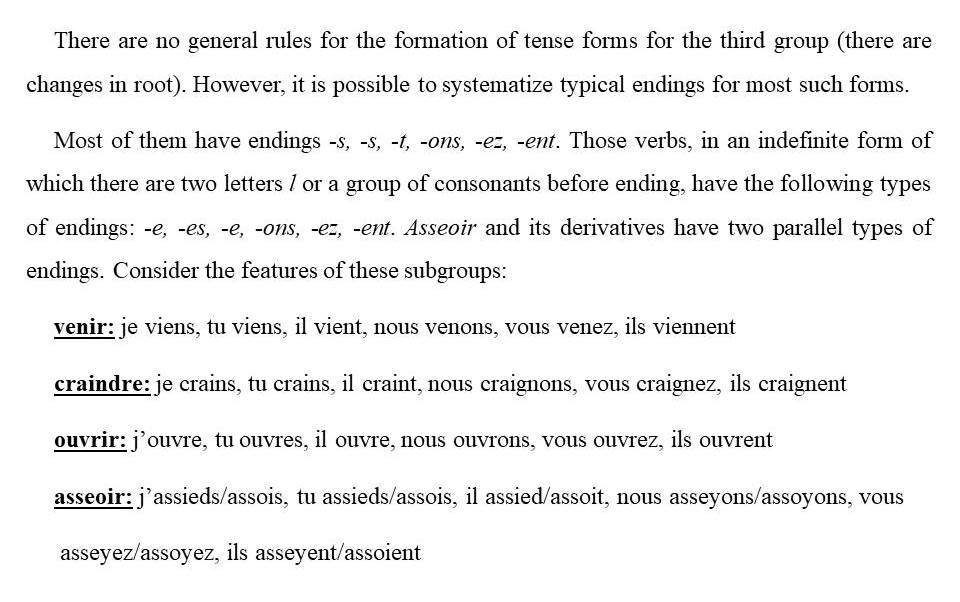 Forms on -dre, -cre, -tre preferably have the following ending groups: -s, -s, -d/c/t, -ons, -ez, -ent. Below are some samples of re verbs French conjugation. The tense transformation of falloir (has only the third person singular), and pouvoir, vouloir, valoir is also distinguished. These are the following endings: -x, -x, -t, -ons, -ez, -ent.
And here are the most typical words that have rather atypical forms in some persons.

If you want to fully understand all these verb forms, then individual lessons with a French tutor will certainly not be unnecessary. So you will take care of comfortable studying conditions and avoid difficulties, which usually accompany self-learning.