Grammar of any language begins to be studied from the present simple tense. This topic is not so difficult, but it is complicated by the presence of irregular verbs. Just memorizing them is not an option. After all, in the end, you need to learn to speak and write competently, independently composing sentences and texts.
Next you will learn all about the Presente de Indicativo and even a little more – recommendations for studying for beginners.
Peculiarities of Spanish Verb
The main difference between a Spanish verb and English one is that the grammatical form of this verb already indicates a person performing an action. And also a number. We never miss a pronoun in a sentence in our mother tongue. Spaniards are more likely to miss personal pronouns than they are to use them. For comparison, it is much more common to hear "¿Qué haces aquí?" than "¿Qué tú haces aquí?". 
Verbs are also classified into two large groups:
regular: they conjugate according to the same certain scheme, which will be easy to remember;
irregular: a) those that have different deviations from the scheme of conjugation of regular forms; b) those that do not belong to any standardized mechanism and have their own paradigm of conjugation. For instance, tener conjugation in present tense. 
Learning tenses and other grammatical topics seems easy if your level is already at least elementary. The main condition is that you need to study persons and basic verbs, and preferably at least 300 words from different parts of speech, before you start studying the Presente. 
But you can save as much time as possible with private classes. For example, you can very quickly find a good tutor for a child or an adult on UpskillsTutor.
General Rules of Spanish Present Tense
Depending on the ending of an infinitive, three types of conjugation of regular verb forms are distinguished. Endings also depend directly on a person. The table below shows the amar, vivir, beber conjugation samples. And this is a typical scheme.
We are dealing with tense, which denotes constant or repetitive actions. To begin with, we need to define and discard one of the infinitive endings – ar, er, or ir. Further, a group of personal endings should be used, depending on the infinitive type. Let us look at examples of sentences. 
We cook. Cocinamos la comida.
You talk to a teacher. Tú hablas con el maestro.
She writes in Spanish. Ella escribe en español.
Negative sentences are formed very easily. Particle no is put directly before a verb. 
He doesn't write a book about animals. No escribe el libro acerca de animales.
I don't take an umbrella. Yo no tomo el paraguas.
We will remind you that personal pronouns can be omitted. We define a person by the form and the ending of a verb. For example, if the ending is -o, then this is the first person of the singular, if -an/en, then this is the third person of the plural. 
The order of words in questions is the same as in a narrative sentence. 
Where do you want to go next weekend? ¿A dónde quieres viajar el próximo fin de semana?
Why don't you come in? ¿Por que no entras?
Knowing about this conjugation system and remembering personal endings, you can take any regular verb and practice its conjugation by yourself.
Irregular Verbs in Spanish Present Tense 
The most spread word in any language – to be – opens a list of irregular forms. However, in Spanish there are two of them – ser and estar. The first one is used to indicate permanent properties (for example, I am Spanish, he is American, she is young, this cat is black). The second is used to determine the changing, temporal properties, characteristics (I am all right now, Are you well?). 
Verbs in which vowels alternate during conjugation are frequent. 
There are also interesting verbs in which only one form differs from the typical system for regular ones.
And here is how the most common irregular forms are conjugated.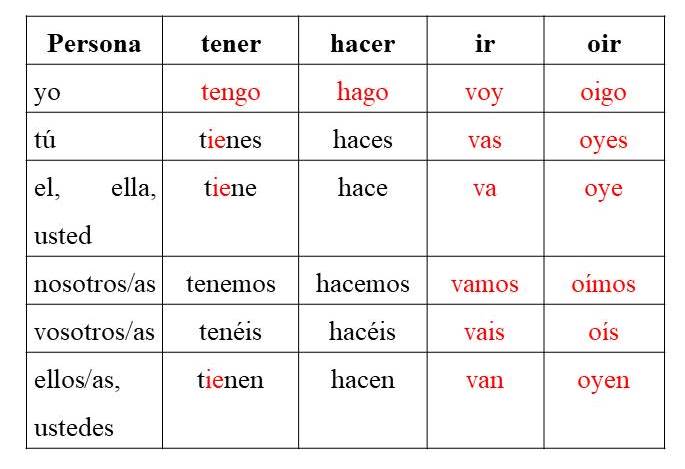 Let us consider examples of conjugation of hacer in present tense in sentences.
Нago bien mi trabajo.
El panadero hace el pan.
¿Qué harás esta noche?
When learning tenses, it is best to train in live, active speech and correct your mistakes with a tutor. It is important to study every day, as well as to try to translate simple sentences into Spanish.
Read more: Past Tense: Imperfect or Preterite in Spanish Grammar