Traditional text slang in Spanish correspondence has not lost its relevance and now is actively used in online messengers such as Instagram, WhatsApp, Twitter and so on. If you feel like you're solving an extremely complicated rebus when you're chatting with a Native Spaniard, this is where you come in. To make the rules of writing Spanish messages not look for you rather nreda2, read the article.
How to Text in Spanish?
If you want to create concise and understandable messages, learn how to shorten words. Everything is as it is in English. So to begin with, it is worth mentioning the most recurrent English abbreviations. For example, what does tbh mean in texts?
Your main goal is to say whatever you want with a small number of symbols. Believe, your Spanish-speaking acquaintance won't be too happy to get a real essay from you. Firstly, it is not popular, and secondly, it will be too difficult for you to correspond with the Spaniards and understand the content of their messages. A concise message must be less than 160 symbols long. 
To better integrate into the slang environment, take the following steps:
familiarize yourself with the main contractions and acronyms and understand the ways of their formation;

learn how to replace words with special marks and numbers;

remember the constructions that are exceptions and are formed in an obscure way.
In general, it is better to enter the UpskillsTutor website and find a qualified teacher there who will help you learn slang forms quickly and effectively. You will be able to communicate with native speakers on the same level and, in addition to conversational skills, to pull up knowledge on various grammatical and lexical topics. Just imagine that by looking at the symbols below, you can not only understand their meaning, but also give quick answers. 
y ade+ no llegs tard ke stamos mu cansa2

(and also don't be late because we are very tired);
Ta weno, va+

(Okay, let's go);

Jajaja d=

(LOL, Doesn't matter).
The Characteristics of Spanish Text Message
An ordinary Spanish message can resemble complex ciphers if you don't know the basic principles of writing words and phrases. 
Let's take a look at 3 main signs of text slang:
abbreviations – words can be truncated partially (

cam – cámara – camera, dim – dime – tell me, pco – poco – a little

) or shortened completely to the initial letters (

npn – No pasa nada – No problem; fds – fin de semana – weekend

);

letter substitution – the letters

k

and

x

are mainly used for substitution. In particular, instead of

q

and

c

, Spaniards most often write

k

, and the letter

х

is used instead of the syllbles

por, par, ch

. Also the syllable

lla

is often replaced by the letter

y

:

ymm – llámame – сall me

. So don't be surprised if your Spanish-speaking friend writes to you:

kiero

instead of

quiero

,

mxo

instead of

mucho

,

kls

instead of

clase

;

omission of letters – in most cases, when quickly printing words, vowel letters are omitted:

bb – bebé – baby, dfcl – difícil – difficult, kntm – cuéntame – tell me

. But this principle also applies to consonants, especially the letter

h

(

exo – hecho – act

) and the letter combination

es

at the beginning of words (

toy – estoy – am

).
The table of abbreviations: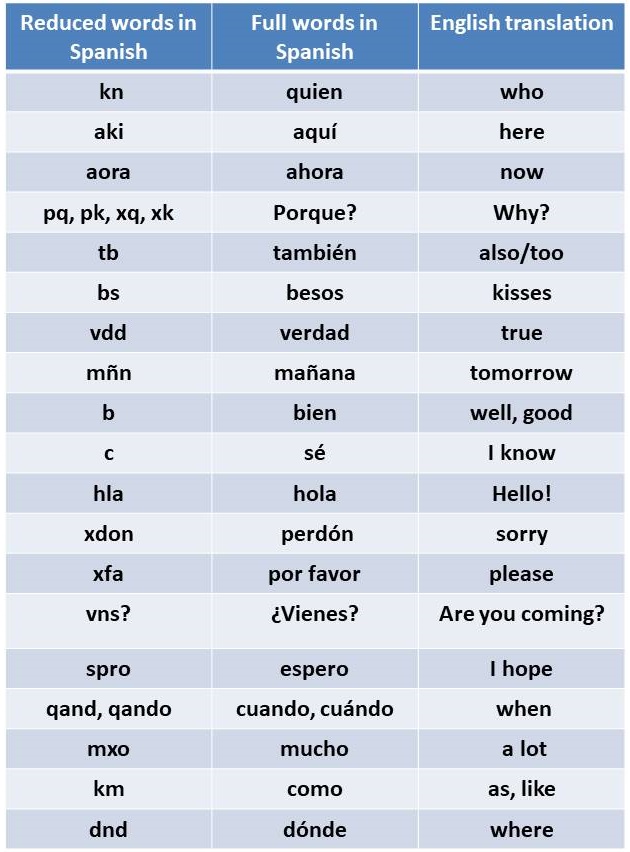 If you know particular words, it becomes less difficult to recognize phrases. For example, the question word qué is abbreviated to one letter k, and in the verb haces the first consonant h and the vowel e fall out. So the question "What're you doing?" in a written text looks: k acs. 
Most often, phrases are abbreviated to the initial letters of each of the words. To convey the meaning of "about to leave home", Spaniards use the abbreviation Asdc, which sounds completely in Spanish as "a salir de casa". 
But not all abbreviated expressions are subjected to logical decryption. There are contractions, the origin of which is difficult to explain, such as KO – estoy muerto. And in general, to master the technique of texting with abbreviations, you need to master the language at a proper level. 
Therefore, it is a reasonable decision to learn the language with a tutor. A teacher will help you to feel the peculiarities of the language from the inside and as well as learn the features of Spanish correspondence well. On UpskillStutor you will find the desired teacher without unnecessary effort and waste of time. 
Here are the samples of the most frequent phrases.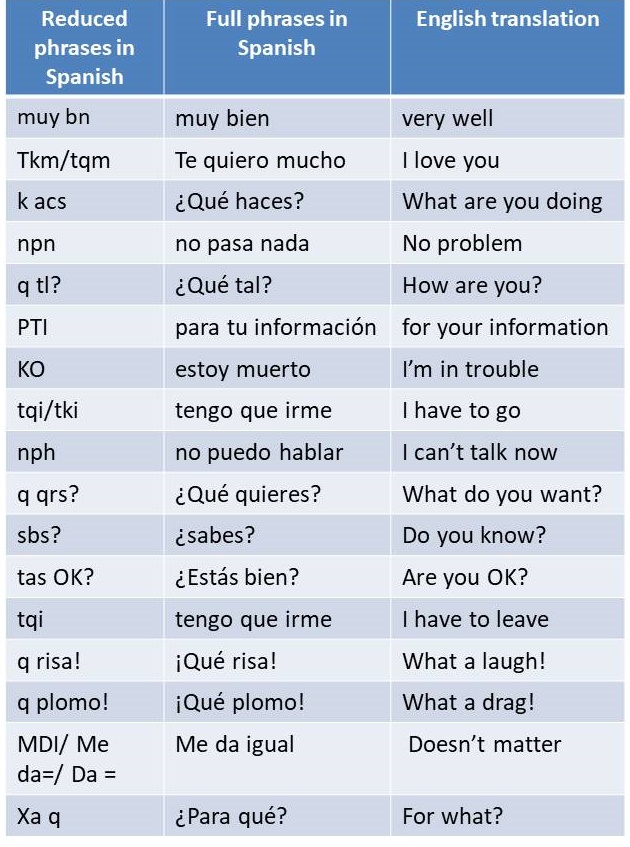 Numbers and Symbols Used in Spanish Text Slang
The combination of Latin letters with numbers is the main feature of Spanish abbreviated texts. In this language numbers can phonetically replace syllables, so we have the following cases of substitutions: t2 – todos, m1 – mándame un, a10 or a2 – adiós. Another classic example is the greeting (Saludos!), which contains the syllable dos. It has been replaced by number 2 for your convenience – Salu2. 
If possible, try to use numbers instead of assonant words or syllables when writing Spanish messages.
Below you see a table of the most recurrent word contractions using numbers.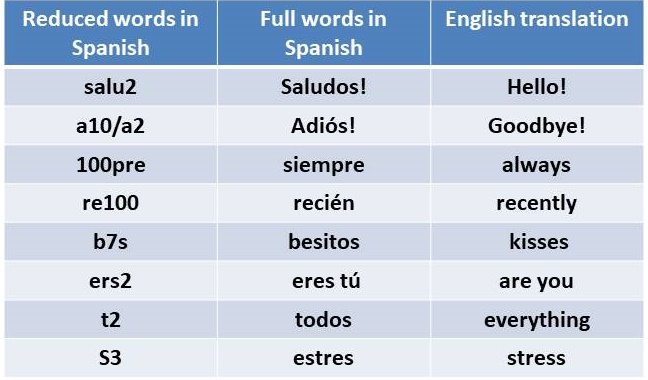 Mathematical symbols, such as + and –, are quite popular in Spanish text messages. This technique makes the text unusual and meticulous and simultaneously saves space and time. The plus sign replaces the word "more", and the minus sign – "less". Particularly popular is the phrase "more or less" (más o menos), which in the abbreviated symbolic record looks like this: +o –. 
And the sign "equals" replaces the expressions "the same" or "does not matter". The x symbol can replace the following syllables: por, per and par. For instance, x lo visto – apparently, xa – para – for, ke = viejos – just like my old ones. 
As we know, in Spanish there are separate endings for the masculine and feminine, they differ by the letters o and a. But what do we call male and female in one word? The Spaniards found a way out and with the help of the @ symbol, in which the letters o and a are encrypted, they put the genus in one word: chic@s (boys and girls), amig@s, etc. 
Examples of words and phrases with such abbreviations are in the table.