Did you have to talk about your condition, describe a sign of your actions or a sign of quality? Most likely, yes, because you quite often use words like bad, well, cheerfully, greatly, cold, warmly and similar in everyday speech? Did you know that they are referred to as adverbs? 
Let us talk about this part of the language in more detail and consider how it differs from other parts of the language.
What Does an Adverb Mean?
An adverb (from now on abbreviated as Adv) belongs to independent parts of the language. They are never used with nouns. It is an important tool without which we could not convey the meaning of place, time, quality, measure and degree, mode of action, purpose, cause, comparison, frequency, etc. So this part of the language answers the following questions: how?, where?, when?, to what extent?, why?, how often? and the like. 
Advs are determined by the questions we formulate for them. So, if you are uncertain whether it is almost an adverb, put a question to this word in the context of your sentence. Have you chosen a question word "to what extent"? Therefore, almost is an adverb.
Consider the classification of Adv by structure.
Simple

Adv

can coincide in their form with adjectives, sometimes with the prepositions from which they were formed. These are

fast, well, low

.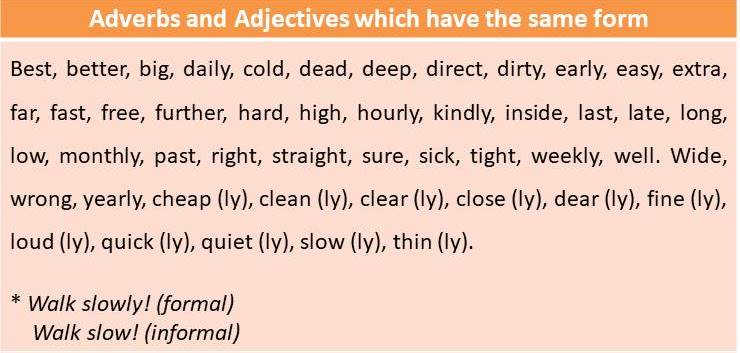 Derivative

Аdv

is formed by a variety of suffixes and prefixes. In most cases, they are created from adjectives by adding

-ly

. These are the most frequent and most used types. For example,

slowly, quickly, and carefully

.

Compound

Аdv

is constructed by fusing several words or word roots:

some + times= sometimes, mid + way = midway, when + ever = whenever

.

Phrase

Adv

consists of several words that form a phrase. At the same time, you should perceive such a compound

Adv

as one word, since the meaning of each individual word in a part of a phrase adverb may differ. For instance,

over and over, at least, hardly ever, on the other hand

.
Qualitative Adv, like adjectives, has degrees of comparison. As an illustration: quickly – more quickly – most quickly.
Types of Adverbs
There are 7 main types of this part of the language. They are classified depending on their meaning. The most common are:
By the way, these rules cannot simply be studied. You need to understand the language intuitively from the inside. If you have grammar problems, enter UpskillsTutor, where you will find an English tutor to your wish.
The following Аdvs also occur very often:
Advs of manner are the most diverse.
For example, the word fast is an adjective if there is a noun after it: a fast animal. But if there are no words related after it, then this is an example of an adverb of manner: to run fast.
Examples of other Advs.
Adverb Before or After Verb?
This part of language can be in three places of a sentence:
At the beginning of a sentence.

In the middle of a sentence, before or after the verb.

At the end of a sentence.
If we have past and present forms of be, then an adverb to the verb is put after it. Julio is very interested in general success.
Frequency Advs that mean the repetition of action and some other Advs (such as, almost, just, hardly) are usually placed between a subject and a predicate if there is a one-word predicate. If a predicate is a multi-word, Adv is put after the first part of our predicate. Jerome has never managed to outsmart us.
Advs of place, time, and mode of action are usually put after a verb, or its addition if any. Gather all the beads and put them nearby. Note that Adv cannot be placed between a verb and its complement. 
For instance: I often visit my parents (but NOT "I visit often my parents").
By learning this part of the language with a tutor, you will be able to know and recognize different types of Adv in texts in a week, as well as not get confused in the positions of adverbs.