Many people make mistakes in writing and using these prepositions. And they still can't figure out the difference between them. About all this and more – further in the paper.
Despite vs. In spite of — What is The Difference?
Both of these prepositions are synonymous. Both emphasize the opposite between the two parts of a sentence. In fact, these expressions are interchangeable. And they are also considered more formal than another more common variant – although.
| | | |
| --- | --- | --- |
| Сomparison criterion | Despite | In Spite of |
| Style | Formal | Most often – informal, friendly, conversational. |
| Оrigin | From the French expression "en despit de", which means "in disrespect/neglect of". | From the word "spit", which is an abbreviated form from the despit (despite). |
Undoubtedly, these grammatical constructions seem not so complicated at first glance. But this is just a small part of the vast ocean of prepositions, conjunctions, phrases and expressions. If you are not strong in English grammar, use courses or other help.
UpskillsTutor is one of the best and most visited tutoring platforms in the USA. The site is distinguished by simple and convenient search filters and an extensive selection of professionals. 
Despite and In Spite Of — Meaning and Rules
So, what does inspite and despite literally mean?
| | | |
| --- | --- | --- |
| Сomparison criterion | Despite | In Spite of |
| Meaning  | Used to say that something has happened or is right, although something could have prevented it.  | Although something exists or is happening.  |
Key rules for the introduction of these prepositions in a text:
After

in spite of

either gerund or noun can be used.

After

despite

a pronoun can be used. Then this expression is followed by a full sentence. You can also use a noun or a gerund, as in the case of its synonym. And even a word combination.
How to Use Despite and In spite of In a Sentence?
Importantly, both of these prepositions can open a sentence or stand in the middle of a complex sentence. They are most often included in separate parts of a sentence and less often denote the beginning of a simple independent sentence in a complex one. Separate expressions naturally end with a comma. 
Let us turn directly to practice. In spite of vs despite on the examples of sentences.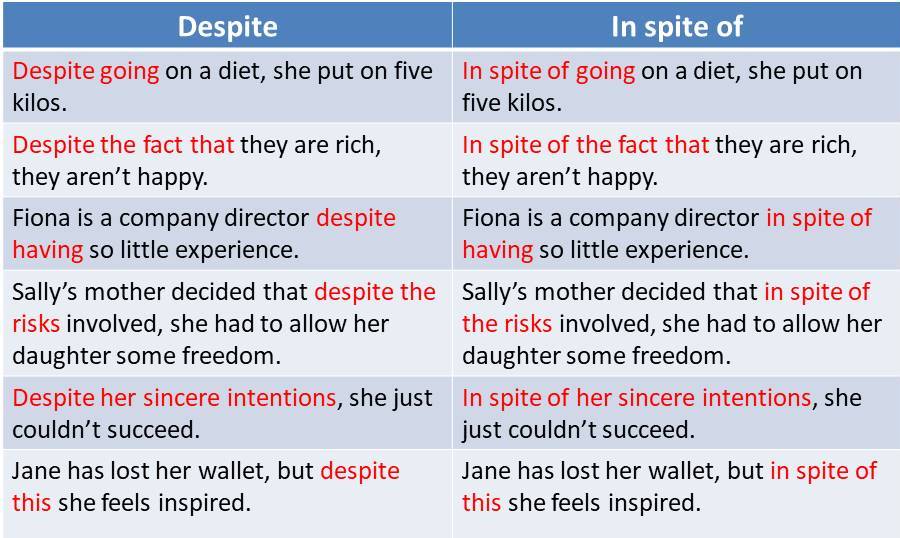 How Not to Use In Spite Of and Despite?
Now you will be able not only, for instance, to define despite and similar prepositions, but also to recognize wide-spread mistakes:
in

the

spite of;

in spite (without

of

);

despite

of;

after both forms – the verb without ending

-ing

.
In order to avoid such mistakes and learn to understand the grammatical rules intuitively, find a tutor for yourself.