French has been known since ancient times as the language of romance and passion. No wonder many people want to express their feelings in French. Read on , and you will be able to impress your soulmate with beautiful expressions, as well as follows tips on how to easily learn them.
Is it hard to learn French?
Indeed, it is very interesting and not such a complicated language. Comparing French with English, linguists claim they are approximately equal in complexity of study. Usually, many students worry about French pronunciation.
Phonetic features of this language include nasal vowels, throat sound r, combinations of consonants and vowels, diacritical signs, fusion of words, that makes it unique and recognizable. But for the articulation apparatus of an ordinary American, it becomes a real challenge. And even simple compliments in French require diligent pronunciation training.
Its grammar is also famous for certain complicated "zests": rather convoluted rules of gender and coordination of all parts of speech in it, about 18 tenses, a peculiar system of numeral formation and so on. That is why at the outset of language learning, it might be best to work with a private tutor who selects the curriculum for your abilities and goals. On the UpskillsTutor website, you can choose both a degreed professional and a native speaker in your city or online.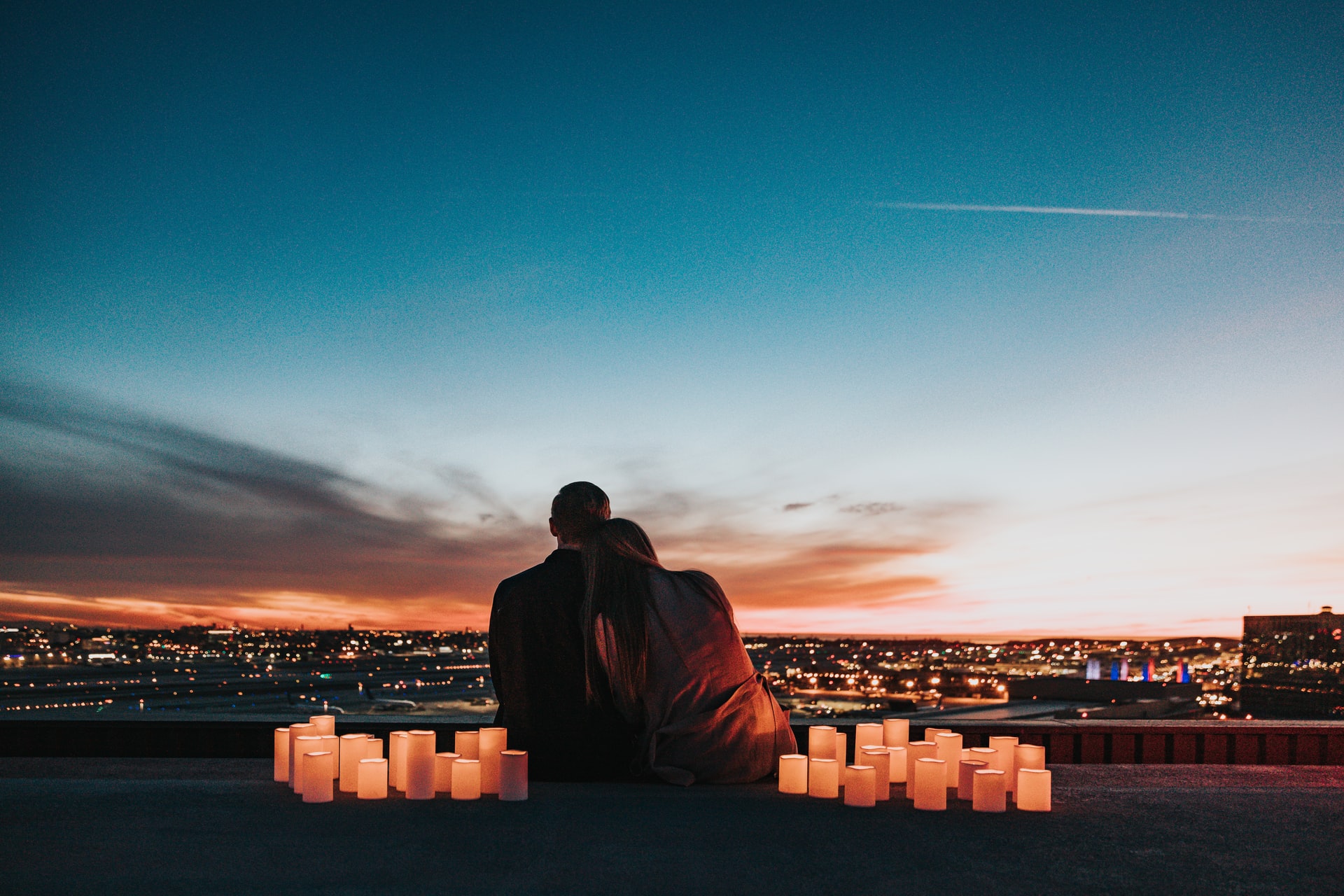 Romantic French Words
No wonder, French is considered to be the inexhaustible source of romantic words. You just imagine that this language includes more than 200 phrases and addresses that the French call their soulmate. The French language amazes with the wealth of metaphors and comparisons regarding love confession. In addition, it takes the third position in the world ranking in its euphony.
For instance, the expression my darling in French can be conveyed as ma chérie, ma préférée, ma charmante, ma bien-aimée when we talk to a woman and declaring your love for a man you use mon chéri, mon préféré, mon amour, mon bien-aimé, que j'aime.
| | | |
| --- | --- | --- |
| French words | Transcription | Тranslation |
| l'amour | lamuʁ | love |
| bisous | bizu | kisses |
| s'embrasser | ɑ̃bʀase | to kiss |
| la passion | la pasjɔ̃ | passion |
| toi et moi… | twa e mwa | you and me |
| ma chérie, mon chéri | mɔ̃ ʃeʀi | my darling |
| mon аnge | mɔ̃ ange | my angel |
| ma biche | mɔ̃ biʃ | my doe |
| mon trésor | mɔ̃ tʀezɔʀ | my treasure |
| ma belle | mɔ̃ bεl | мy beauty |
| mon chou | mɔ̃ ʃu | my pastry |
| ma puce | mɔ̃ pys | my flea |
| mon canard | mɔ̃ kanaʀ | my duckling |
| mon lapin | mɔ̃ lapε̃ˌ in | my bunny |
| mon petit bébé | mɔ̃ p(ə)ti bebe | мy little baby |
| mon coeur | mɔ̃ kœʀ | мy heart |
| ma mie | mɔ̃ mi | my baby |
| mon amour | mɔ̃ amuʀ | my love |
| mon mignon | mɔ̃ miɲɔ̃ | my cutie |
| ma poule | mɔ̃ pul | sweetie, honey |
| ma cocotte | mɔ̃ kɔkɔt | my casserole |
| A toi, pour toujours | а twa puʀ tuʒuʀ | Yours forever |
| Amour de ma vie | amuʀ də mɔ̃ vi | Love of my life |
| Je t'aime | ʒə ty eme | I love you |
| Je t'adore | ʒə ty adɔʀe | I adore you |
These were examples of more classical expressions, but the French language surprises us with the great variety of animal names in addressing the lovers. Here is not a complete list of such appeals: ma loutre (мy otter), mon minou (my kitty cat), ma caille (мy quail), mon loup (my wolf), mon chat (my pussycat), and so on.
Also in this language, we observe a lot of love words related to food: mon sucre d'orge (my barley sugar), mon chou (my cabbage), mon poussin (my candy).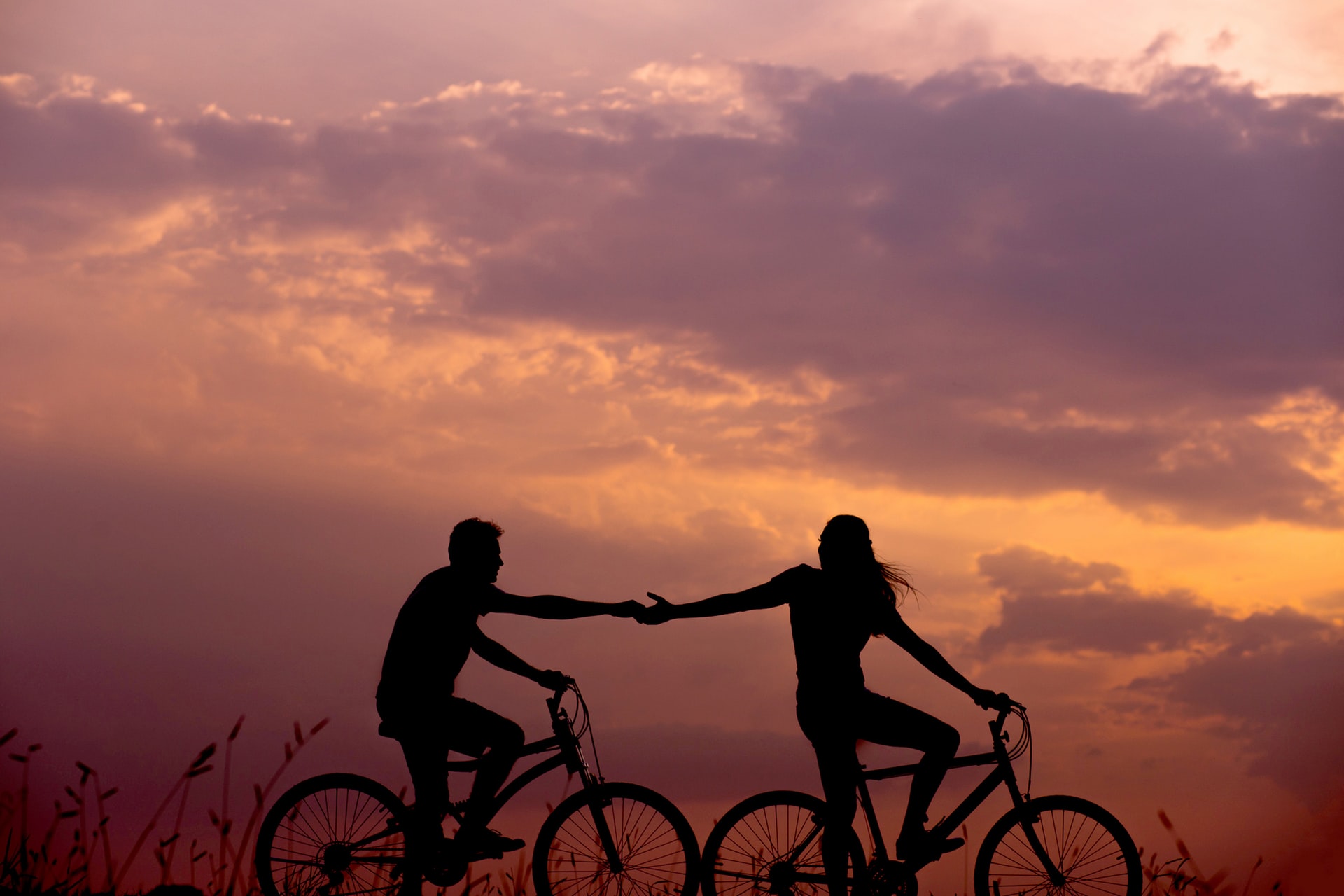 The Best Romantic French Phrases
French is rich in sensual phrases, which sound melodic and attractive. The declaration of love je t'aime has many refined variants, in particular: je t'adore, je vous aime, je vous adore, j'ai besoin de toi. The list goes on.
Although we have a century of brief messages, no one has canceled romantic correspondence. That's how you can write to a woman you love: Surprenante, discrète, intelligente, tu me charmes sans t'en apercevoir (Amazing, sincere, smart, you charm me without noticing) or Tu es là, dans mon coeur, et ma vie change de couleurs (You're in my soul and my life changes colors). 
The table below shows the most popular phrases.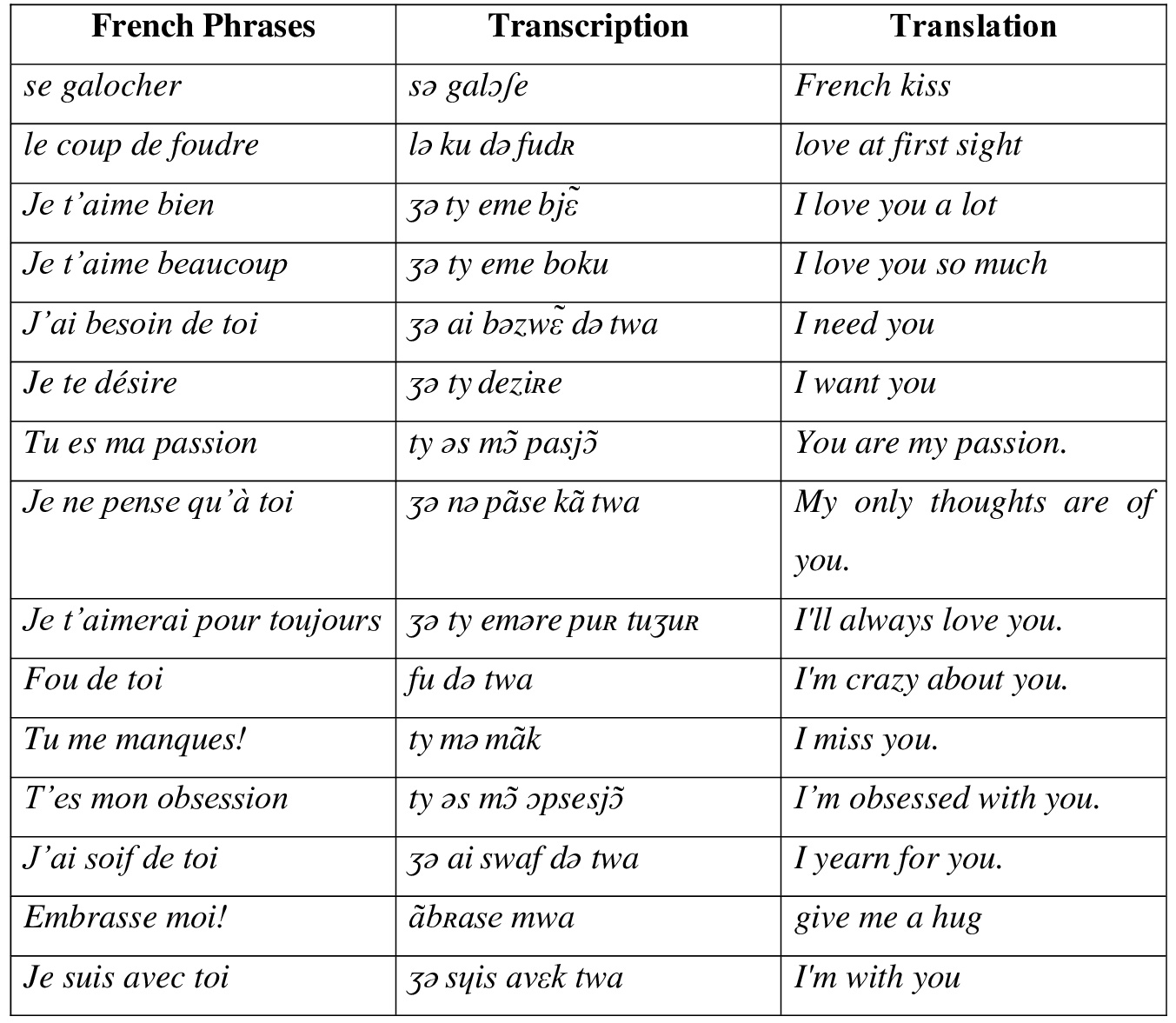 Romantic French Quotes About Love
Honoré Balzac, Gustave Flaubert, Emile Zola, Philippe Jaccotte and many others who became world classics, used French in their literature masterpieces. And as Victor Hugo said, "Aimer c'est agir" (To love is to act), enchant your soulmate with beautiful sentences and metaphorical compliments. 
| | | |
| --- | --- | --- |
| French Sentences | Transcription | Тranslation |
| Tu es l'amour de ma vie. | ty əs lamuʀ də mɔ̃ vi | You are the love of my life. |
| Tu éclipses les étoiles. | ty eklips le etwal | You overshadow the stars. |
| Nous étions nés pour nous rencontrer. | nu εtʀ ne puʀ nu ʀɑ̃kɔ̃tʀe | We were born to meet. |
| Mon coeur sera toujours pour toi. | mɔ̃ kœʀ sεʀa tuʒuʀ puʀ twa | My heart is always for you. |
| Tu m'as tellement manqué! | ty mas tεlmɑ̃ mɑ̃ke | I've missed you so much. |
| Tu es la prunelle de mes yeux.  | ty əs la pʀynεl də mɔ̃ œj | You're the apple of my eye.  |
| Tu es la plus belle des roses.  | ty əs la plys bεl de ʀoz | You are the prettiest of all the roses.  |
| Je suis malade d'amour pour toi.  | ʒə sɥis malad damuʀ puʀ twa | I'm sick of loving you. |
In order to express your feelings so subtly and confidently, you must have perfect knowledge of French. Especially if your special someone is Frenchman/Frenchwoman or fluent in French. Any romantic conversation can also be decorated with romantic French sayings, for example: Le coeur qui soupire n'a pas ce qu'il désire (The heart sighs for who it desires) and so on.
Quotes aren't easy to remember if you don't understand French. Before you confess your love using foreign words, you should study with a tutor. With the help of a specialist you will train your pronunciation, enrich your vocabulary and facilitate lexical acquisition significantly. Use the UpskillsTutor to find an experienced professional for your queries.