The French language – harmonious, gently ringing, iridescent – was recognized as the most melodic along with Italian at the beginning of the 20th century. Most of the world classics were created in this language, romantic natures confess their love in French. 
It should also be remembered that native speakers of the French language are almost 300 thousand potential consumers. These are the two reasons that most Americans are attracted to learning French. Let us be inspired by beautiful phrases.
Quotes about Enjoying Life
As Antoine de Saint-Exupery said, "On ne voit bien qu 'avec le coeur," which translates as "We see well only with the heart". Any lyrico-philosophical statements we perceive with our heart, that is, at the spiritual level. Scientists in the field of psychology have proven that daily re-reading and knowledge of motivating phrases and proverbs programmе us for success. 
This is especially necessary for people who doubt themselves or their achievements and plan to improve their future. And if a celebrity who owns the famous words lives nowadays and her/his personal example inspires you, all that remains is to make these statements your motto. 
Another point is learning the language, it can also be an additional motivation for you. In this case, you do not have to make a lot of effort if you find a professional teacher. This, in turn, is easy to do with the UpskillsTutor tutoring platform.
Here are proverbs and quotes with inspiring meaning.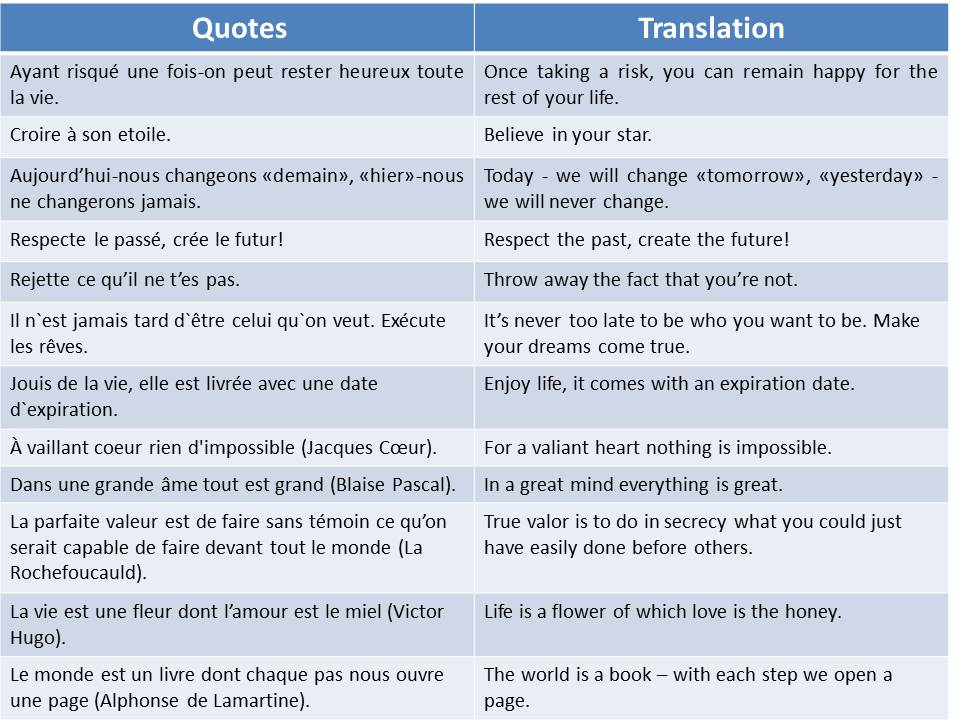 Aesthetic Deep Short Quotes
Inspiration does not always come by itself. Often, a  master needs to work well on him/herself, and it is important for a beginner, for instance, an artist, to be inspired by the works of his or her predecessors. Also in the art of words. We constantly need some magic formulas to develop the right attitudes. 
Let us get acquainted with some fancy quotes devoted to art and creativity.
As Georges Sand once said, "L'esprit cherche et c'est le coeur qui trouve» (meaning "The mind searches, and only the heart finds"). However, in many quotations, which have already become popular proverbs or aphorisms, folk wisdom has also accumulated. Particularly impressive are concise sayings, for example: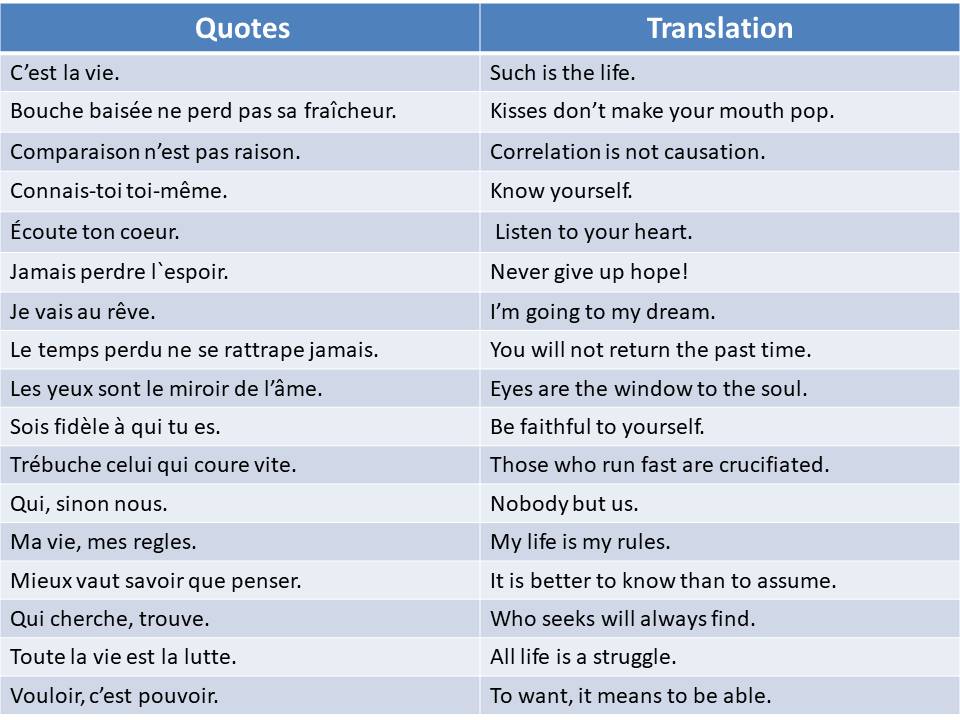 French words will sound exquisitely in your statuses on social networks. You can create your own phrases based on common patterns.
Deep Meaningful Star Quotes
Definitely, the statements of modern celebrities, such as Christian Dior or Vanessa Paradis, are the most authoritative for you. At the same time, the wisdom of Seneca, Dalai Lama or Mother Teresa is equally in demand. Just think of the depth of their intelligent speeches!
But imagine that you too will be able to create your own wise sayings about love, life, friendship, the things you love. All this is possible if you can master French at the proper level. For this purpose, it is best to study with a tutor. A private teacher is a great opportunity to improve not only a specific topic, but also to increase the knowledge of the language as a whole. 
And the main thing – to learn to easily and freely speak and communicate at the same level with native speakers.