The trend towards home-based education in the US continues to grow and gain momentum. Parents want to guarantee a safe and comfortable educational environment for their children. If they are able to do it, why not? In this article, you will learn a lot of useful information on this topic.
What is Homeschooling?
The practice of receiving general secondary education, when a child is studying outside of a public or any other certified educational institution, is called homeschooling. In fact, this is the most free form of education for children. In most cases, it is up to the parents to decide who and how to teach their children. Schooling from home has several reasons:
religious belief;

parental work associated with frequent relocations;

problems with the child's health;

a high need for a personal approach to a child;

the need to create a safe psychological atmosphere;

recently, the Covid pandemic.
In general, parents try to provide their children with a high-quality education in one way or another. After all, if they are not qualified teachers, they risk harming their children with a selection of incorrect forms, methods and education programs.
One of the good and instead budget options is a tutor. In particular, you can select teachers for complex subjects on UpskillsTutor. It won't take you long.
Public Schools vs Home Schools
Both forms of education have their pros and cons. Let us figure out is homeschool better than public schools?
Features of a public educational institution.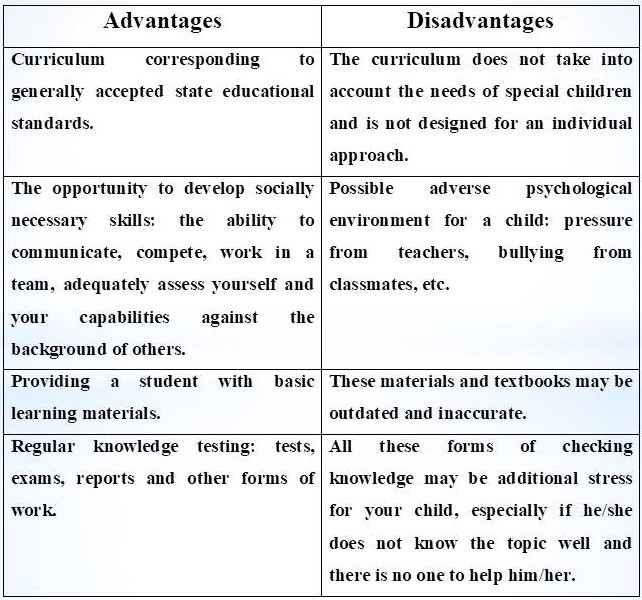 Advantages and disadvantages of home education.
How To Homeschool Your Kid?
Stick to a certain pattern of actions:
Agree this decision with a child.

Find out what your state's law requires you to do about this.

Inevitably test your child's knowledge with the help of an independent certified specialist.

Together with a specialist, an experienced teacher and, if necessary, a psychologist, draw up a schedule of classes and curricula for the subjects for a child.

Remember to consider your child's wishes for his/her additional development – clubs, hobbies, and sports sections.

Strictly control the entire learning process or organizational issues.

If after six months of such practice you do not see a positive result, the child's knowledge will deteriorate; think about another option for teaching. Perhaps

education at home

should be organized with the help of experienced teachers.
Requirements of Homeschooling
It all depends on your state. Alaska, Texas, Oklahoma, Missouri, Illinois, Indiana, Iowa, Michigan, New Jersey are the most liberal with regard to control over homeschooling. So these are the best homeschool states. But the most stringent are only four states: New York, Pennsylvania, Vermont, Massachusetts.
Take Texas as an example. There homeschooling is equated with private schools. The compulsory subjects to be included in the studying plan: spelling, mathematics, grammar, reading, civics. You should also have a curriculum. The alleged school age is from 6 to 19 years. There are no requirements for teacher qualification and knowledge assessment.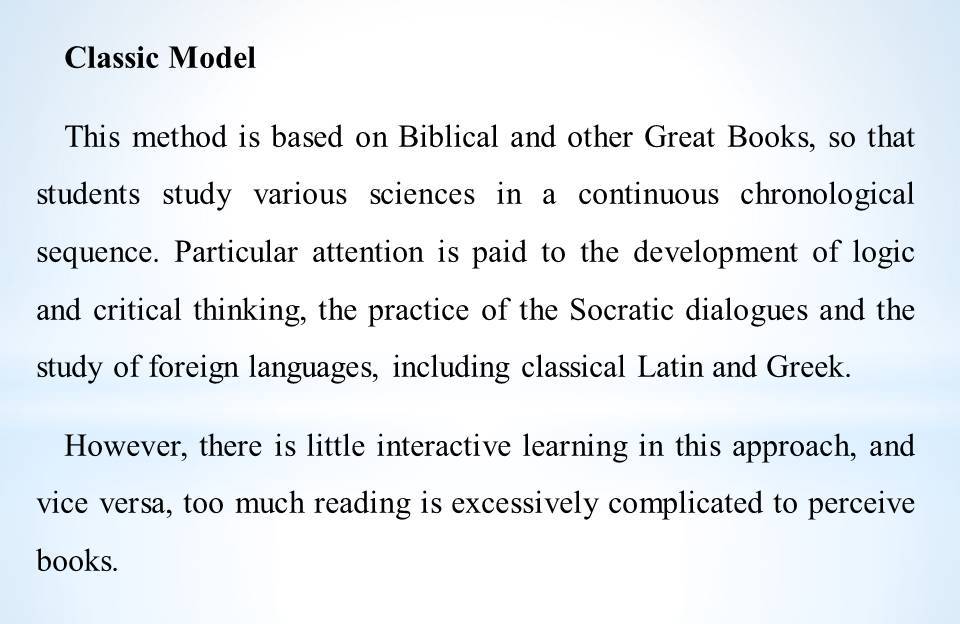 In Wyoming, as an example of the neutral attitude of the law to homeschooling, two main requirements are proposed:
submit your curriculum annually to the school district;

mandatory for teaching are reading, writing, mathematics, history, literature, social studies, and natural sciences.
Membership in HSLDA – an international association of homeschoolers, can help you solve many organizational issues.
Different Types of Homeschooling Techniques
There are 7 basic models of home education. Let us start with the strictest one.
The following model has a long history and is now a bit out of date.
Charlotte Mason Model
Based on the Christian concept and includes something from the previous method. It is also the most budget for parents. The main form of education is observation, walks in nature, recording impressions of what was read/heard in a diary, compiling a portfolio, reading stories. 
But the homeschooling program of this method is almost not designed for the needs of high school students and is not suitable for teaching mathematics and natural sciences at a more complex level. 
Our list will continue more unrestricted in terms of control and including contemporary models. 
Unschooling Model
At the center of this model, described by J.Holt and C.Aldrich, is the student's personality, and their individual learning interests. Testing and assessments are usually lacking. Particular emphasis is placed on the experimental training format. This method is the most flexible and adaptive.
The disadvantages of unschooling are the lack of a strict control system and structure in teaching, which can eventually lead to both chaos and disorientation.
School-at-Home
The only difference between this form of education and a regular public school is that these activities take place at home. Everything else – standards, curricula, timetables, textbooks, etc. – is the same as in a traditional school. Often, parents attract online school teachers or tutors. 
This is the most expensive form of home education. Parents buy or create the curriculum packages for each class by themselves. This is the most time-consuming method, as it requires learning at the same pace as in a public school.
Training with a professional tutor can be added to any of the methods listed here. This is the most reliable way and, moreover, you do not have to look for the curriculum yourself. And tutor sites such as UpskillsTutor will help you quickly find the right specialist.
Unit Studies
Interdisciplinary learning, where one topic is viewed differently and simultaneously in different fields of science. For example, pyramids in terms of history, geography and geometry. This technique is not systemic and is usually part of other methods. Lessons are formed as multifaceted projects and interesting, complex exercises.
However, this method is incomplete and strongly depends on the curriculum.
Eclectic Model
This method can combine a variety of methods and forms in any sequence. All of them are up to you. Of course, there is a preferred curriculum, and the selection of methods and their combinations should consider the wishes and interests of a child. This is the freest and most flexible model of all stated here.
The disadvantage of this method is too many options and resources, which may lead to inconsistencies in the presentation of the material.