Do you dream of playing your favorite songs on guitar? So do not think long. If you feel that it takes a long time to learn notes and you should have a musical education, you are very wrong. In fact, it can take you no more than 1-2 months to master simple chords.
Read the article and learn how to do these first steps.
What is a Tab?
Tabs are symbols that are used to record compositions, and their prevalence is explained by the fact that they are much easier to read than notes. 
How to read tablature? In fact, tabs are deciphered as follows:
The dashes on which the numbers are placed are images of strings. Often they are first signed with letters denoting the guitar frets. In tabs, it looks like six long horizontal stripes. The upper stripe is the lower, the thinnest string on the guitar. The bottom stripe is the top string of the guitar, and it is the thickest;
The frets on which you need to clamp the strings to play a melody are shown with the help of numbers. If you see the number 1 on the second top stripe, then you need to press the 2nd string on the 1st fret.
A vertical stripe across all lines is the separation of bars.
But this is not all. In the tabs you can also see:
stripes that go down from numbers and connect. They show the length of the notes;
the time signature;
not pressed strings can be designated by letters on the left.
Here are three options for what a tablature entry might look like. 
Let us decrypt the following example of a record.
E|----------------------10----------------------- -------------------
B|-13-p-10----10-------10-----13b(15)----------10-10-10- -
G|---------12----12b(14)------------------------10-10-10------
D|------------------------------------------- --------------------
A|------------------------------------------- --------------------
E|------------------------------------------- ---------------------
So E, B, G, D, A, E are the strings. 13b(15) is a pull off from 13 fret to 10 fret. 12b(14) is a band (pulling) from 12 fret to note 14.
Special signs that can be found in tabs.
How to Read Music for Guitar?
There are two systems of sound designation. Probably many people know the famous sound scale: La – Si – Do – Re – Mi – Fa – Sol. The second system is alphabetic, it is just what you see above the lines in songs. The letter system is based on the letters of the Latin alphabet: A (La), B (Si), C (Do), D (Re), E (Mi), F (Fa), G (Sol).
It is enough to be able to select and clip chords on the neck correctly for an amateur playing for your own pleasure. In order to learn them, you need to refer to schematic images of guitar chords. They show the correct location of the fingers on the strings, so we get the right sound. It takes a few chords to play the simplest songs.
Here are the main types of simple chords:
In the United States and South America, chord patterns are usually displayed vertically, with the thickest string on the left.
Do you have trouble reading guitar tabs? Then it is better to take several private lessons from a teacher. Seeking a tutor today is easy: you can visit the UpskillsTutor site and spend just a few minutes to find the right specialist.
Extremely Easy Guitar Tabs for Popular Songs
Let us start with a song that will come in handy for everyone. This is Happy Birthday. It consists of 4 short phrases and is played on one string.
Twinkle, Twinkle Little Star: guitar tabs
Classic. My Heart Will Go On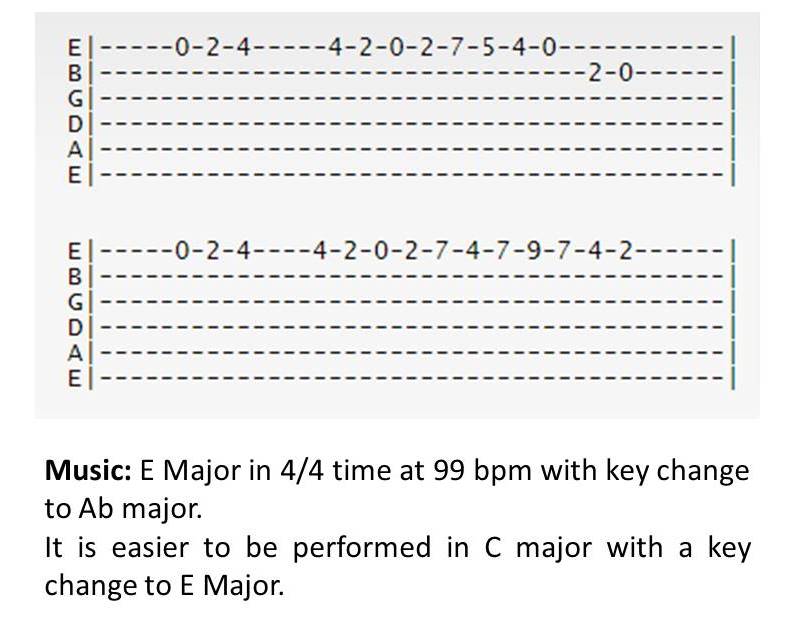 Melodies with riffs. Smoke On The Water
Satisfaction by Rolling Stones
Where Can I Find Free Guitar Tabs?
Learning to read and distinguish different guitar tab symbols is possible.
This is one of the most famous channels on YouTube for guitarists and bassists, with more than 1.5 million subscribers. It is easy to find here the most recent and popular novelties of the music world, as well as tracks from movies and video games.
The site is in great demand among professional guitarists and amateurs. Here you can find more than 1 million licensed catalogs of guitar tablatures and chord tables. You can also observe reviews of new tracks and musical equipment, various video courses, interviews with famous musicians and live forms on the platform.
This site with tabs is completely free, but its main feature is that you can hear the time signature of songs. This makes it much easier to determine the rhythm.
This site, unlike the previous one, does not contain ready-made tabs. It is a meta-search engine that collects and downloads data from other sources. Just write the title of a song or the name of a musician in the search line.
This is not a site with tabs, but a tutoring platform where you can find an experienced guitar teacher. Self-study will take you twice more time than if you improve the skills with a tutor. Professional teaching methods adapted to your abilities and purpose will help to achieve a truly perfect result.